CADDIE HANDOUTS AT A GLANCE…
04.04.20 – FIRST DROP: 25KG of beef sponsored by VFS International and a total of 50 pockets of potatoes sponsored by Buya Bamba and Chalimbana
12.04.20 – EASTER DROP: 10KG maize meal
17.04.20 – THIRD DROP: 10KG maize meal
24.04.20 – FOURTH DROP: 10KG maize meal
30.04.20 – FIFTH DROP: 25KG maize meal
11.05.20 – SIXTH DROP: 10KG maize meal and Moringa Powder Supplement 
Only 4 months into 2020, and its safe to say that this year is set to be one of the most taxing years that we will experience in our lifetime. On 30 January 2020, the COVID-19 outbreak was declared a Public Health Emergency of International Concern. On 18 March, Zambia had its 2 first cases of the virus. Since then, we have practiced social distancing, isolation and the banning of public gatherings with bars and restaurants being closed. Sadly to the golfing community, golf was officially banned by the Zambian Golf Union (ZGU) as of 29 March 2020, despite all the precautionary measures being in place at Bonanza.
Without doubt, this is a time of many uncertainties…  
HOWEVER THE TRUE SPIRIT OF THE GOLF COMMUNITY WAS SHOWN… when our Members stood together with an immediate contribution towards our caddy fund.
The ban of golf affects all clubs differently both in scope and severity. The caddies and their families were immediately affected and most hard hit as they live hand to mouth.
We are overwhelmed with the continued support from our Members, who have raised a significant amount of money to support our caddies through the tough and trying times that COVID-19 has brought.
With the money raised we purchased 2.5 tons of maize and still have funds in the account to continue the support. Special thanks to Cena Farms Zambia Ltd who offered maize at a reduced rate and Rainet Logistics Ltd who collected the maize from Mkushi.
In addition, Members representing their companies have also donated produce to ensure that caddies are kept sustained:
VFS International sponsored 25kg of beef
Buya Bamba and Chalimbana sponsored a total of 50 pockets of potatoes
Cena Farms Zambia Ltd a further donation of maize
Moringa Initiative sponsored 60 packs of Moringa Superfood Powder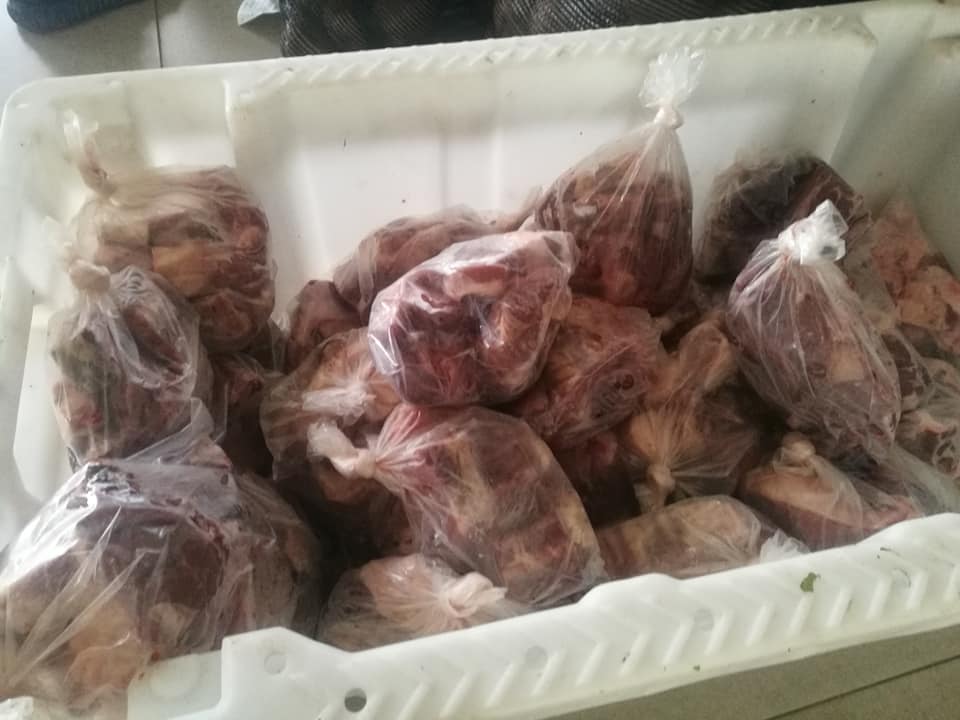 As we are not certain as to how long the virus will affect our caddies, we are spreading the distribution over a number of weeks to ensure that caddies have enough supply to see out this pandemic. As at 26/4/2020 we have distributed as per below and have a healthy balance left in the fund to sustain them for a minimum of 3 more weeks.
04.04.20 – FIRST DROP
The first drop included 25kg of beef sponsored by VFS International and a total of 50 pockets of potatoes sponsored by Buya Bamba and Chalimbana
12.04.20 – EASTER DROP
The second drop couldn't have been more perfectly timed, making Easter Sunday more special. Each caddie received a 10kg bag of maize each.
17.04.20 – THIRD DROP – 10KG BAG EACH OF MAIZE
24.04.20 – FOURTH DROP – 10KG BAG EACH OF MAIZE
30.04.20 – FIFTH DROP – 25KG BAG EACH OF MAIZE
11.05.20 – SIXTH DROP – 10KG BAG EACH OF MAIZE AND MORINGA