5 Club Trophy – the first of many trophy events making history at Bonanza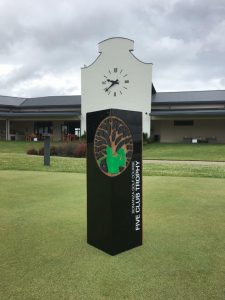 03 February 2018 – Lusaka
Bonanza kicked off the 2018 trophy calendar starting off with The 5 Club Trophy, where players are only allowed to carry 5 clubs in their bag. As you can imagine therefore club selection is crucial! In fact the format forces players to become very creative, where shot-making, imagination and visualisation is the key to success! Believe it or not some players have bettered their personal bests playing this format.
The trophy event was split into a mens and ladies division, where the men had a top three followed by a top two for the ladies division.
The mens trophy winner, Chongo Kasongole carried his 3 wood, 7 iron, pitching wedge, 52° wedge and putter, a very interesting mix which saw him shooting a phenomenal 73, making 41 points – certainly proving that club selection creativity and improvisation goes a long way!
Second place Nick Patel had his rescue, 6 iron, 9 iron, 58° wedge and putter in the bag a very strategic club decision making 39 points.
Thorsten Hofmeister in third place making 38 points, carried his driver, 7 iron, pitching wedge, 52° wedge and putter which set him up to ripping each fairway and chipping it onto the green to finish.
In the ladies division, a very proud moment for Bonanza Golf Course, as the ladies who had completed the beginner golf programme, 9ineandwine rose to the challenge and entered into the 5 Club Trophy.
Having said that, a fantastic 30 points was made by the ladies 5 Club Trophy winner, Tanya Ware, who carried her driver, 9 iron, 6 iron, sandwedge and putter.
Second place on 18 points had Samantha Hance select her driver, 3 wood, 6 iron, pitching wedge and putter.
We look forward to engraving Bonanza's very first trophy winners names into history, as we hold on to the memories created in this event.